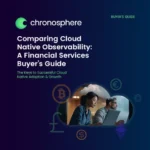 Comparing Cloud Native Observability: A Financial Services Buyer's Guide
During uncertain economic times, organizations will have a heightened focus on cost optimization and resource efficiency. This is especially true for the financial services industry, which is on the economic front lines. Market volatility, inflation, declining consumer confidence, and higher interest rates are among the factors that immediately impact financial services institutions like yours, requiring you to adapt your strategies to the current economic climate.
Financial services firms have a dual mandate of carefully managing risk and investing in technology that makes workers productive and attracts and keeps customers. When economic growth slows, the natural instinct is to focus on the former — often at the expense of the latter. This is a false choice. A more strategic response is to invest in tools like cloud native observability that maximize the return on your cloud native technology investments and let you keep innovating.
Download Comparing Cloud Native Observability: A Financial Services Buyer's Guide Whitepaper